A CA can serve in all possible avenues of Trade, Commerce & Industry
Chartered Accountants are the backbone of the economy and plays a vital role in running the multifaceted businesses which are the growth engines that propels the development of the nation and its individuals. They offer advice, assurance and information that shapes the critical structure of the businesses and keep them align with the overall growth objective of the businesses and economies at large. All types of businesses from micro, small& medium enterprises to multinational giants, needs the services and expertise of the Chartered Accountants. Their role is equally crucial in running public services and charities. They work with governments at local and central level to decide on public budget and its effective utilisation and thereby supporting decisions that have an immediate, positive impact on the society at large.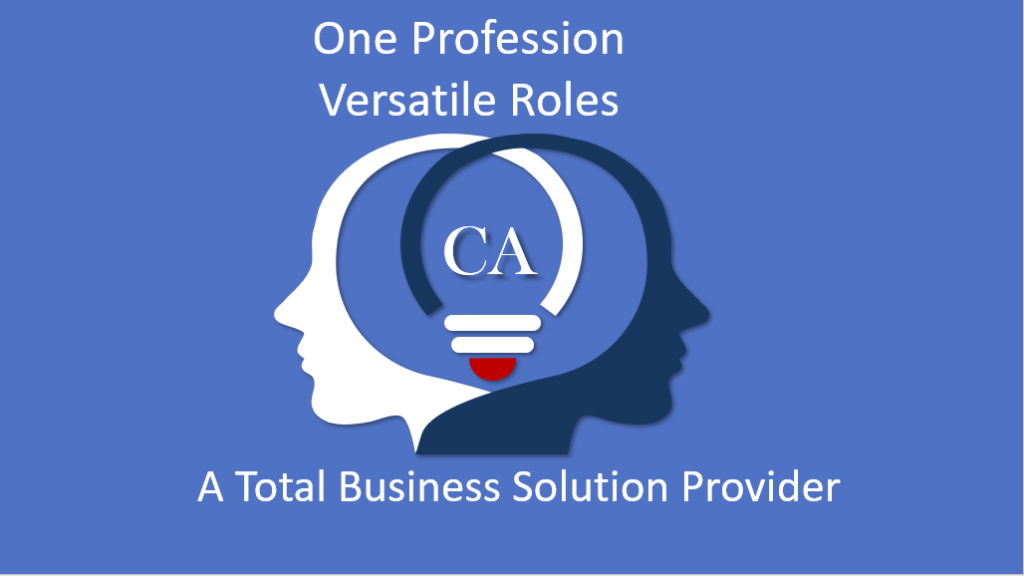 After completing the CA course one can either start his/her own practice or can join the industry. One can pursue career as a Practitioner providing their expertise to clients in various domains. Potential services which a Chartered Accountant could offer includes audit & assurance, financial reporting, forensic accounting and auditing, taxation, insolvency, corporate finance, merger & acquisition, international taxation and other emerging disciplines. As a practitioner one can enjoy variety of work and clients ranging from new tech business startup, a global retailer, a digital age pharma or a public enterprise to name a few.
CAs
Admired by Stalwarts Looked upon by the Nation
Respected by the World
CAs may start independent professional practice and many services are offered by them to their clients in the following areas:
Income Tax, Indirect Tax & GST, preparation of Financial Accounts, Project Reports, Business Strategies, Internal Audit, Risk Assessment etc.
Strategic Financial Decisions
Capital and Money Market
Foreign Exchange Risk Management
Mergers and Acquisitions
Investment Banking
Hedge Funds
Portfolio Management
Risk Management
Mutual Funds
Credit Rating
Venture Capital
Management Consultancy Services
CAs play a vital role in assisting business and industry to improve the use of their resources. The range of management advisory services rendered by CAs includes financial planning and financial policy determination, Portfolio Management etc.
Budgeting, Inventory Management, Working Capital Management
Personnel recruitment and selection, incentive plans
Business policy, corporate planning, organization development, growth and diversification
Organization structure and behavior, development of human resources
Systems analysis and design, and computer related services
Advisor or consultant to an issue
Registrar to an issue and for transfer of shares/other securities
Quality audit, energy audit and environmental audit
Design, Development and Implementation of the Strategy of the business
Development of KPIs that Support Strategic and Sustainable Goals
Provide Relevant Information for Better Decision Making.
Employment in Trade and Industry
CAs may prefer to join an Industry or Business or Trade Organisations in Accounting, Finance, Taxation Departments and rise to hold responsible positions as CEOs, CFOs, COOs, Managing Directors etc.
They can undertake responsibilities ranging from carrying out feasibility studies, compliance with regulatory framework, capital structure and planning, organizational development, budgetary control, information system apart from giving advice on complex issues related to business.
Opportunities in Global Arena
Indian Chartered Accountants have an impressive presence throughout the globe holding eminent positions.
Many MNCs as well as KPOs prefer Indian CAs for their expertise in IFRS, International Taxation, International Trade Laws, Accounting in IT environment. Employment opportunities keep increasing year by year as economy grows.